West Texas Neck & Back
SoftWave Therapy
SoftWave gets your body unstuck and healing so you can get back to living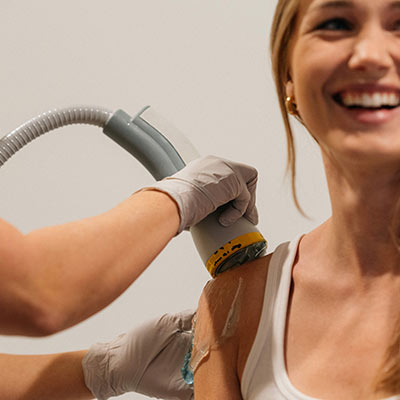 Let the healing begin one softwave at a time
Increases blood supply
Modulates inflammation
Stimulates, activates and recruits resident stem cells
Accelerates wound healing
Repairs, remodels and regenerates tissue
Induces antibacterial effect
Reduces acute and chronic pain
FDA 510(k) cleared for:
Activation of connective tissue
Treatment of chronic diabetic foot ulcers
Treatment of acute second-degree burns
​Improved blood supply
Temporary pain relief

Non-invasive
No anesthesia or numbing agents needed
No side effects
Short treatment time
Quick recovery
​Long lasting
Used at leading national and international research and medical centers such as:
Cleveland Clinic, Shepherd's Center and
Memorial Sloan Kettering, as well as professional sports organizations.
Shock wave technology has been around for decades. SoftWave innovated a better way to advance tissue healing and regeneration in the healthcare fields of orthopedics, traumatology, wound care, aesthetics and urology.
Frequently Asked Questions
What is Extracorporeal Shock Wave Therapy? (ESWT)
Extracorporeal Shock Wave Therapy is a non-surgical, non-invasive treatment of soft tissue, bone, heel, and joint pain that uses shock waves to stimulate cells and promote healing. 
What is SoftWave TRT?
SoftWave TRT stands for SoftWave Tissue Regeneration Technologies. SoftWave TRT is the company that offers the only unfocused true shock wave technology device. 
What is Stemwave Therapy?
'Stemwave therapy' is a phrase commonly used by SoftWaveTRT providers that typically refers to extracorporeal shock wave therapy using a SoftWaveTRT device. The terms 'stemwave therapy' and 'SoftWave therapy' are often used interchangeably.
Is Shockwave Therapy New?
Shockwave therapy has been around for quite a while. Shockwave therapy is the standard of care for soft tissue injuries in Europe and has been a non-surgical option in the U.S. for over 20 years. Increased study and documentation over time has lead to increased adoption of shockwave therapy in multiple fields of use.
What is SoftWave TRT's intended use?
SoftWave TRT is an alternative to surgery to treat musculoskeletal and soft tissue conditions.
Is shockwave therapy with SoftWave TRT Painful?
Patients may experience mild discomfort or soreness shortly after treatment, but typically don't complain of treatment pain.  
What is SoftWave Therapy and What Makes it Differ from Shockwave therapy?
SoftWave Therapy is a treatment involving SoftWave Tissue Regeneration Technology that applies short, frequent, and high intensity bursts of mechanical energy (in the form of a shock wave) into soft-tissue that is injured, scarred, contains adhesions, is painful, or inflamed. SoftWave is currently the only company that offers unfocused true shock wave technology in their devices.
The therapy that is provided by a SoftWaveTRT device has a wider and deeper therapeutic energy zone than other ESWT devices on the market. This results in greater healing as the energy is spread over a vastly larger and deeper area.

Is shockwave therapy with SoftWave TRT effective?
SoftWave therapy has been shown to be very effective at treating multiple different conditions. Depending on the treatment type, studies show success rates of up to 99%.
How Long is a SoftWave therapy treatment?
Each individual session of SoftWave therapy only takes 5-15 minutes and is typically recommended to be done on a once a week basis for 3-5 weeks.
SoftWave TRT, LLC (SWTRT) is a medical technology company that is developing advanced solutions specializing in shockwave therapy for better patient healing.
​Founded in 2004 and headquartered in Kennesaw, GA, SoftWave TRT is committed to the scientific advancement of tissue healing and regeneration and the development of the most effective innovations to improve the quality of lives globally. German-engineered with superior quality, it is used worldwide in the healthcare fields of orthopedics, traumatology, wound care, aesthetics, and urology.
SoftWave technology is trusted by the top major medical research centers in the U.S. and worldwide, with over 300 published studies of the technology supporting its effectiveness. It has strong international presence with its German manufacturing partner and is internationally recognized by the International Society for Medical Shockwave Technology (ISMST).
SWTRT technology is being utilized by leading research and medical centers as well as professional sport organizations such as: